AELLA aims not only excellent function of the motorcyle parts, but also the joy of ownership. Even if we use high quality cutting machine to keep high accuracy and quality, the most important thing is human sensibility.That is because each parts must function as rider's body parts.

Thus, AELLA keep challenging to make ideal parts with aiming of high stage, without coompromising from materials to processing method.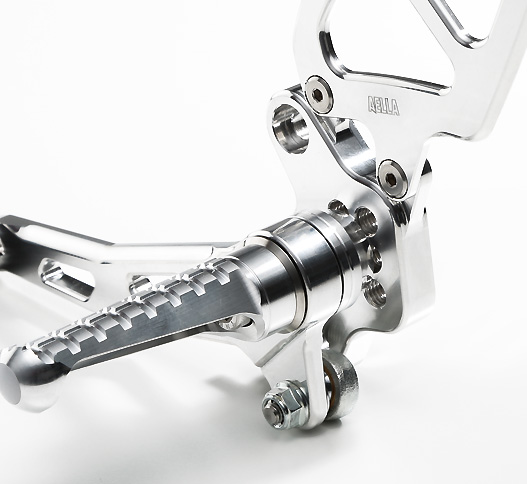 Riding Step
AELLA's riding step pursues high quality of many points, such as shape, width, rigidity and operation feeling of pedal It makes you deeply joy of ownership by the presence of cut aluminum and the beauty of details.In function, adjustable mechanism for each position gives riders best positioning, and machined step bar is realized that stablity of hold feeling without slipping even if wet day. In addition, we developed the rubber by ourself, which used the edge of change pedal and break pedal.
AELLA aims exclusion of unnecessary moviment and looseness using high quality bearring at movable part, and optimisation of ratio of handle.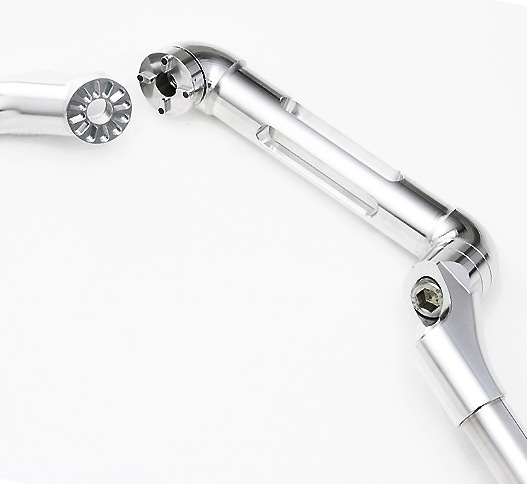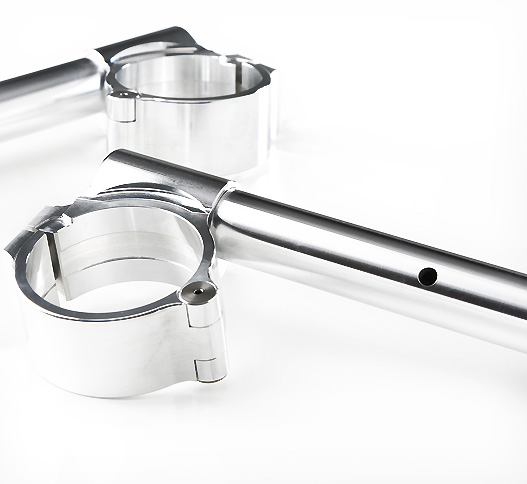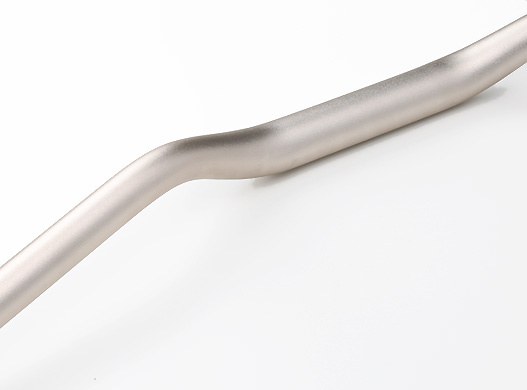 Variable Handle
Variable handle was developed by the totally different concept of normal handle.It is possible to set variable positions by variable mechanism at the base of unique grip bar.It is good for most of Japanese riders to choose aperture angle with narrowing width.It also choses the height as option if you need.You can enjoy the presence of it with optimisation and weight saving of rigidity because of aluminum cut of lightening processing
Aluminum handle, Taper handle
Imported motorcycle is not ideal position for Japanese because it is made for the rider who is large physique.AELLA's handle realizes comfortable riding position for Japanese by suppressing the drip angle and narrowing the width between body and handle to pull the front and high handle bar In addition, it is useful to reduce tiredness with mitigating the vibration by improving the rigidity with increasing the thickness of handle rather than genuine handle.Of course, it is possible to attache with no processing because each handle has original design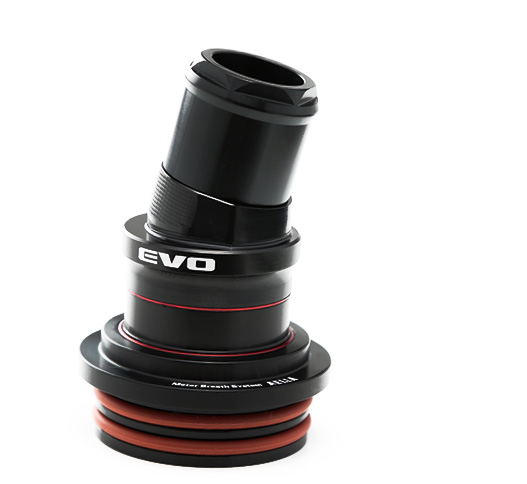 Internal pressure controlled valve
Installing this keeps the internal pressure of crankcase as reasonable, and relaxation of extra engine brake. AELLA internal pressure controlled valve is completed by designed originally, take actual running again and again, and take Chassis dynamometer test.It improves the feeling of low gear at slow driving, and it realizes smooth riding without lock of rear tire when intrusion of corner, or a sudden acceleration Keep reasonable internal pressure of crankcase, the rider concentrate the riding, and feel like just after engine tuning.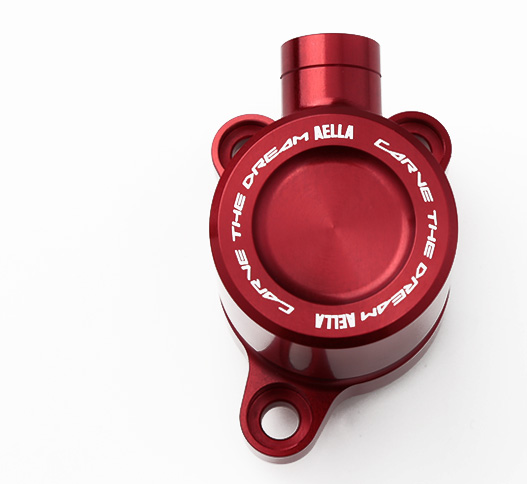 Clutch release cylinder
It reduce the tiredness from the weight of clutch such as disappear of grip strength when repeating stop and go in urban or after riding whole day touring. Clutch release cylinder possible for riders to concentrate riding.Changing the piston as kashima-coat(hardness lubrication alumite) which is superior self lubrication improves impulsivity and improve operability.In addition, we pursues to ensure optimal clearance by shaving piston seal.It is role of one point as original design.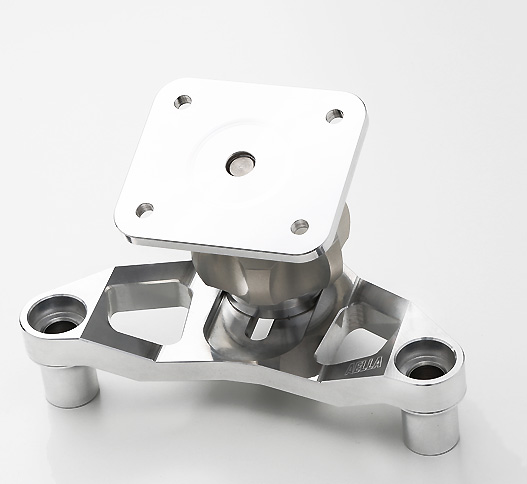 Navi Stay
AELLA's Navi Stay is based on handle bracket fastened type in order to insist the visibility, the operability and the designing when attached mortorcyle, and designed originality for each type of mortorcyle. As a result, it is possible to attach the mortorcycle to keep visibility and design.It is high evaluation because of easy attachments and attachments to handle bracket which does not effect operation of handle.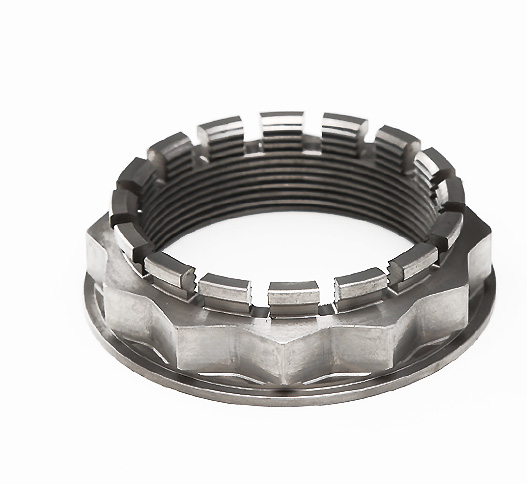 Titanium shaving parts
It uses titanium alloy which is high reliability and used for motoGP, F1 and aircraft.Titanim alloy is six times lighter than copper, strong as special copper and higher quality of corrosion resistance than stainless. This is a characteristic of ultralight, high mechanical strength, strong against vibration on high temperature, and difficult stretch.It is good for brake caliper attached bolt, and realizes real touch feeling when braking because of bolt which is shaved right angle.The nut around engine is effect to reduece vibration by reasonable torque management.Washer is functional washer which is developed as self-alignment mechanism.It is good to improve mounting rigidity and to reduce vibration by optimisation of parallelism and inner diameter.It produces exquisite balance of lightness and strongness by high quality shaving method.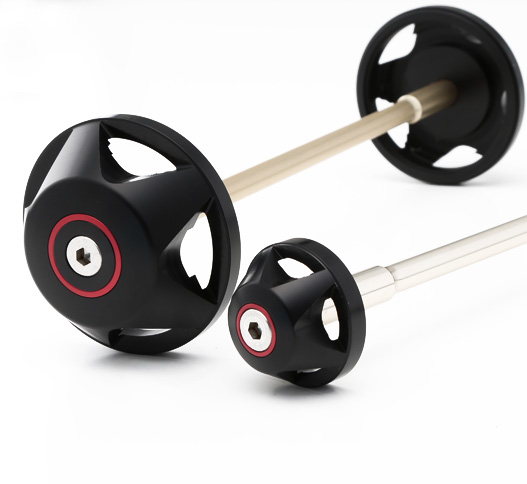 Slider
Slider minimizes damege by diffusion of impact when falling.For example, engine mount shaft changing tipe for DUCATI, it keeps enough strongness when falling by change the shaft to kuromori-copper with increasing its function.It redueces damage of body when falling by using aluminum as slider base and changing the slider to POM which is low wear coefficient.AELLA's slider has differentiation without hurt of designe and with attached red ring designe.